Episodes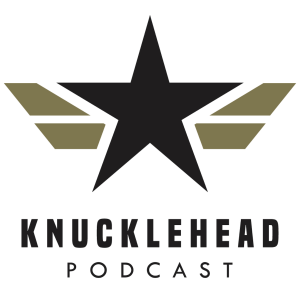 Monday May 17, 2021
Monday May 17, 2021
Growing up from a difficult childhood in Montana, Davin capitalized on his life experiences, reclaimed himself, and emerged victorious.  Combining the discipline he learned in the military and the constant refinement of his skill set through education and networking, he is now part of the leadership team of the world's leading provider of electronic forms management, automation, and workflow.
In today's edition of the Knucklehead Podcast, our guest, Davin Marceau will talk about his military experience, his upbringing, and his deep appreciation for hard work. He will also share some great advice on how to succeed in business and life in general.
What makes people successful in business and in life:
The ability to have more than one plan
Davin Marceau served the US Army Ranger for more than a decade gaining combat experience in multiple deployments. He is the Chief Operations Officer at ACCESS Enterprise Forms Management, a servant leader, and the co-host of the Upward Spiral Podcast. His comprehensive background in leadership, strategic planning, risk management, and business development made him a great asset in the business world.
Enjoy!
This episode is brought to you by: Vouris.com
Turn insights into action
Your data tells a story –
We analyze your past data and understand what worked, what didn't, what to keep and what to improve. All based on data, specific to your business.

Take your free sales assessment here: https://hubs.ly/H0Ny9rF0
In This Episode
00:29 - Life of Davin Marceau as a kid
2:02 - His most unforgettable job experience
5:21 - Davin's inspiration for becoming an Army Ranger
7:39 - His perspective on what makes people successful in business and in life
9:48 - How his military experience benefits his corporate career
13:09 - His thoughts about people who wear their titles as a badge of honor
14:55 -The story of how he learned the skill of negotiation in business and in life
Favorite Quotes
"And that's really what I think makes people successful in business and in life is the ability to have more than one plan because everybody listening to this or watching this or heard of this, everybody's got a plan 'till they get punched in the face." - Davin Marceau
"I also had the ability going into business and back-filling that leadership domain and that real life domain with post-secondary education that I knew that it was never going to play itself out like I wanted to. So I have the ability to have multiple plans."  - Davin Marceau
"When that plan did fail is not to dwell on it and not to let it drag me down. You just pivot real fast and move on. The ability to take and apply that from that to other elements of business, especially inside of organization has really helped ACCESS become a more agile, quickly pivoting, entrepreneurial driven organization."
"Situational variables come into play. If you don't have the ability to inject common sense and experience into that situation, you're going to fail miserably."
How to get in touch with Davin Marceau
Call (469) 668 8686
Knucklehead Podcast is brought to you by Manscaped- Use the Promo Code: KNUCKLEHEAD for 20% Off
Grab your COVID 19 survivor T-shirt HERE
Connect with Knucklehead Media Group
Website          https://knucklehead.agency/
Facebook       https://www.facebook.com/knuckleheadmg
Twitter           https://twitter.com/knuckleheadmg