Episodes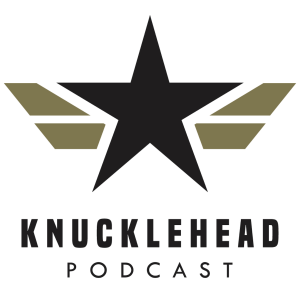 Monday Jan 25, 2021
Monday Jan 25, 2021
Realizing the broken system in how the society operates in terms of education, race, and business opportunities, "Iron" Mike has designed an ecosystem of boxing and entrepreneurship as a way to uplift young men and women of color in Newark. His goal of creating champions both inside and outside of the ring not just built an opportunity to generate income with the brand through their corporate wellness offerings but also provided entrepreneurial education to inner-city youth and young adults across the country.
Today's edition of the Knucklehead Podcast, Stephen will have a transparent conversation with today's guest, "IRON" Mike Steadman. Seeing the gap between boxing and the opportunities that come with it, Mike will share his process about how he uses boxing to make a positive impact and uplift the lives of the people in poor communities.
"IRON" Mike Steadman is the CEO and Founder of IRONBOUND Boxing and oversees all aspects of their corporate and community activities. Mike is a three-time National Collegiate Boxing Champion from the United States Naval Academy and was a Marine Corps Infantry Officer, with deployments to Afghanistan and Japan/Philippines.
IRONBOUND Boxing is a health and wellness company in the NYC Metro Area. They connect companies, organizations, and communities with on-site boxing instructors. Their goal is to use the transformative powers of boxing to create champions both inside and outside of the ring. As an organization, they're committed to providing free amateur boxing training, entrepreneurial education, and employment opportunities to inner-city youth & young adults.
Enjoy!
In This Episode
3:20 - Backstory of "IRON" Mike Steadman
6:51 - Some of the mistakes he made during the early phase of corporate boxing
9:21 - Why Mike felt that boxing was the way to connect with his audience
12:23 - His opinion on why we tend to hear about what makes us different rather than what we share in common
16:40 - The beauty of boxing gym in the inner city
18:36 - The difference between somebody who wins and someone who always wins
22:42 - Instances where problems cannot be solved because they originated from the system itself
28:30 - One of the core values of Ironbound Boxing
31:30 - Mike's biggest screw up
Favorite Quotes
"I wasted so much time, energy on the negative self-talk telling myself I'm not a systems guy and all this kind of stuff. And then finally just having a peer group that supports you, and then you're like, man I could have been doing this all along." - Mike
"Our goal is not to create champions just in the ring, we want to carry them out of the ring as well." - Mike
"One of the mistakes I made early on with corporate boxing was I didn't validate the business model. A lot of times we try to force stuff on the marketplace. But before we commit to it and build a business around it, can you validate that someone is willing to pay you for that product or service before you launch. I didn't do that with corporate boxing." - Mike
"I found that boxing was my community. I go into a boxing gym, there's a bunch of people that look like me. We have this amazing sport that's touching youth in the poorest of poor communities all across the country." - Mike
"Boxing is a grimy, gritty sport in the hood. But we can be entrepreneurs, we can go to college, and we can do whatever we want." - Mike
"On the other side of that pain and struggle is typically something significantly, more valuable than you trying to avoid whatever pain or struggle you were going through before." - Stephen
"I love how you kind of systematized how boxing leads to a more robust or versatile context, switching opportunities for folks who come from relatively low income areas. And I admire that you're doing that for kids and you recognize it as an opportunity to actually instill entrepreneurial values or individual responsibility by teaching them something like boxing because it's gritty." - Stephen
"I think a lot of times, we're trying to force this stuff, the tutoring program and all this stuff. But at the end of the day, kids are human beings too. They're trying to survive and thrive. Box and teach them how to defend themselves, protect themselves, survivors thrive." - Mike
"Boxing is part of my core and it just allows me to be innovative." - Mike
"Solving the problem isn't necessarily oriented through the lens of race in my opinion. It's the approach of looking at people as they're people and recognizing the environment.  Meet people where they're at." - Stephen
"It's the rehabilitation process of helping somebody escape that mindset and getting into this individual responsibility mindset. That's the problem that we're trying to solve." - Stephen
"One thing we've got to realize too is I think a lot of times you can't solve problems with the solutions and the systems that created them in the first place." - Mike
"The reality is, different cultures have different needs." - Mike
Get in touch with "IRON" Mike Steadman
Confessions Of A Native Son Podcast
Knucklehead Podcast is brought to you by Manscaped- Use the Promo Code: KNUCKLEHEAD  for 20% Off
Grab your COVID 19 survivor T-shirt HERE
Connect with Knucklehead Media Group
Website          https://knucklehead.agency/
Facebook       https://www.facebook.com/knuckleheadmg
Twitter           https://twitter.com/knuckleheadmg
Instagram      https://www.instagram.com/knucklehead_mg
Knucklehead Media Group is your "push button" for podcasts. We help companies and organizations tell their story using podcasts and best practices for content distribution. Home to some of the top podcasts across multiple categories, captivating coursework on gaining traction with your show, and consulting to those companies BOLD enough to get some wins. We believe your mistakes set the foundation for your success, those stories help customers beat a pathway to your doorstep, and the myths from bringing business online shouldn't hold you back from getting yours.
Click here to more episodes of the Knucklehead Podcast