Episodes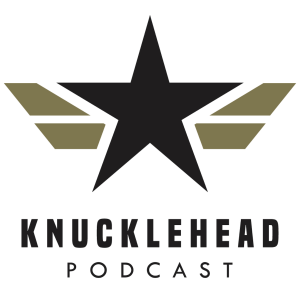 Tuesday Aug 31, 2021
Tuesday Aug 31, 2021
Having seen firsthand the dark side of the patent system, Russ spent most of his time learning the ropes of patent law and "reverse engineer" the process. As he is now recognized as one of the world's leading patent strategists, the $5,000 he lost on a worthless patent search in the early days of his career has turned out to be the best investment he has ever made.
His mantra
Show up and do the next right thing
In today's edition of the Knucklehead Podcast, Russ Krajec will talk about how his experiences and mistakes in the past led him to become one of the world's top intellectual property strategists today. He will also discuss the best way to develop a business plan and when is the right time to patent a business idea.
Russ Krajec is the CEO of BlueIron, a patent finance company that makes $50-100K investments in pre-revenue startups and $2-5M loans using the startup's patents as collateral. An author of more than 800 patent applications and inventor of over 30 US patents, Russ is a leading expert in intellectual property and one of IAM's Top 300 Patent Strategists.
In This Episode
2:50 - The biggest mistake most start-up businesses make
4:02 - Russ' approach to creating the best business plan
6:04 - When and how Russ gets a patent for a business idea
8:38 - What it takes to land a successful career or business
15:58 - Russ' motivation for becoming a patent attorney
22:21 - How he gets over the plans that never work out
25:03 - How to get in touch with Russ Krajec
27:36 - What he discovered about the legal industry
31:38 - His mindset about mistakes or screw-ups
Favorite Quotes
"There's a point where the most important thing you can do is ANYTHING. There's a point where you just need to move the needle. If I didn't take the action, I'd still be sitting there on the sidelines going, ugghh, you know, 'Should I do it?" - Russ Krajec
"I talked to a lot of startup companies and they have a grand vision of where their product is going. The biggest mistake they make is to run out to a patent attorney and get a patent on this grand business idea and they do it at a time when it's untested." - Russ Krajec
"I don't finance the original idea. I want to capture the value after you've been through the process, after you've built a prototype, after you've tried to sell this, after you've got the response from the market, after you've honed this thing. Whatever you start at the beginning, is just a framework." - Russ Krajec
"Opportunity is going to show up somewhere. Sometime in your life, opportunities going to show up, may show up once, may show up multiple times. But be ready to take it. Be ready to jump on it when it comes." - Russ Krajec
"It doesn't mean every investment is going to turn out to be a unicorn. But an opportunity will come by every once in a while." - Russ Krajec
"If you're going to do something, show up. Put your back into it. Do the best job you can and make it account." - Russ Krajec
Engage with Russ Krajec
BlueIron IP's Patent Myth Podcast
Reach out to Justin Szerletich to get in touch with Knucklehead Media Group
Knucklehead Podcast is brought to you by Manscaped- Use the Promo Code: KNUCKLEHEAD  for 20% Off
Grab your COVID 19 survivor T-shirt HERE
Connect with Knucklehead Media Group
Knucklehead Media Group is your "push button" for podcasts. We help companies and organizations tell their story using podcasts and best practices for content distribution. Home to some of the top podcasts across multiple categories, captivating coursework on gaining traction with your show, and consulting to those companies BOLD enough to get some wins. We believe your mistakes set the foundation for your success, those stories help customers beat a pathway to your doorstep, and the myths from bringing business online shouldn't hold you back from getting yours.
Click here for more episodes of the Knucklehead Podcast