Episodes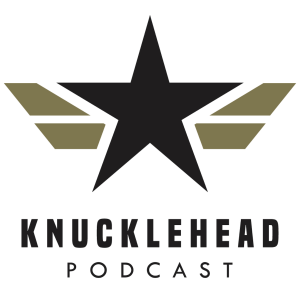 Monday Aug 23, 2021
Monday Aug 23, 2021
With air and space as his training ground, Wes knows what it means to pay attention and stay focused. While these military skills are synonymous in the business world, knowing how to focus your attention on what you need to be paying attention to is the key to achieving your business goals.
How to stay focused on achieving your goals:
Start from the target and work backward
In today's edition of the Knucklehead Podcast, our guest, Wes Woodhouse will discuss how skills learned in the military are applicable to almost every aspect of life. Furthermore, he will present one of the unique perspectives that lead businesses to success - the ability to focus your attention to where it is needed.
Wes Woodhouse is a husband, father, marathon runner, and fighter pilot. He pilots the F-15E Strike Eagle which is a multi-role fighter aircraft currently in the USAF inventory.
Knowing the skills he learned in the military are the perfect foundation for business, he founded Vector Mastermind to help build up the next generation of leaders, armed to take on the dynamic challenges of the 21st Century.
Enjoy!
In This Episode
1:12 - What motivates Wes to get up so early in the morning
2:21 - Backstory of Wes Woodhouse
6:54 - His journey to Michigan Technological University
8:20 - Wes' perspective on education
10:18 - How his skills as a pilot can be used in any area of life
12:33 - What led him to use his military skills in business
16:17 - How a scene from the movie Top Gun can be applied to business
24:04 - A few of the screw-ups he made in his mastermind group
Favorite Quotes
"When you wake up in the morning and you're sitting down and you're thinking about what you're going to do for the rest of the day, where do you need to put your attention today? What do you need to put your attention on today that's going to make you successful as you carry on towards your goals?" - Wes Woodhouse
"In the studying of people who are successful, I've found that invariably, they work hard.  And many times working hard means you got to get up a little bit earlier than most of the people and hit it." - Wes Woodhouse
"The reality is, you can do almost anything without having to go to college. With the internet and the opportunity for entrepreneurial pursuits, I think giving them life experiences and giving them an understanding of, 'Yes, you can envision something and then build it and then make it happen', is going to be more valuable." - Wes Woodhouse
"The military does a great job of building up leaders who can be strategic thinkers but then can execute at a tactical level." - Wes Woodhouse
"If you put your attention in the right spot, you're going to be thinking about the right things and you're going to be able to make the appropriate decision." - Wes Woodhouse
"Business is always moving. It never stops. Regardless COVID happens, that's just a giant roadblock. The business is still going and you still have to keep it afloat." - Wes Woodhouse
Engage with Wes Woodhouse
Reach out to Justin Szerletich to get in touch with Knucklehead Media Group
Knucklehead Podcast is brought to you by Manscaped- Use the Promo Code: KNUCKLEHEAD  for 20% Off
Grab your COVID 19 survivor T-shirt HERE
Connect with Knucklehead Media Group
Knucklehead Media Group is your "push button" for podcasts. We help companies and organizations tell their story using podcasts and best practices for content distribution. Home to some of the top podcasts across multiple categories, captivating coursework on gaining traction with your show, and consulting to those companies BOLD enough to get some wins. We believe your mistakes set the foundation for your success, those stories help customers beat a pathway to your doorstep, and the myths from bringing business online shouldn't hold you back from getting yours.
Click here to more episodes of the Knucklehead Podcast